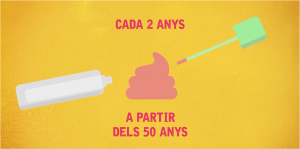 The Catalan Institute of Oncology (ICO) has completed the coverage of the Colorectal Cancer Screening Program (CCR) throughout its territory of influence. Currently, all the target population (men and women 50-69 years old) residing in Hospitalet de Llobregat, Baix Llobregat, Garraf, Alt Penedès, Barcelonès Nord and Maresme have already received at least once invitation to the program. The ICO, commissioned by the Department of Health, is responsible for deploying the program in this territory.
In 2000, the program began in the municipality of L'Hospitalet de Llobregat, the first in the whole State. In 2004 it was extended to the Alt Penedès region and by the end of 2015 the final phase of extension for the rest of the territory began.
In the last year more than 97,000 people have participated in this territory. Of this total, an adenomatous lesion have been detected in 2,877 people, lesions that in a future can become a cancer, and therefore have been avoided. On the other hand, 187 people affected by colorectal cancer have been detected thanks to the program.