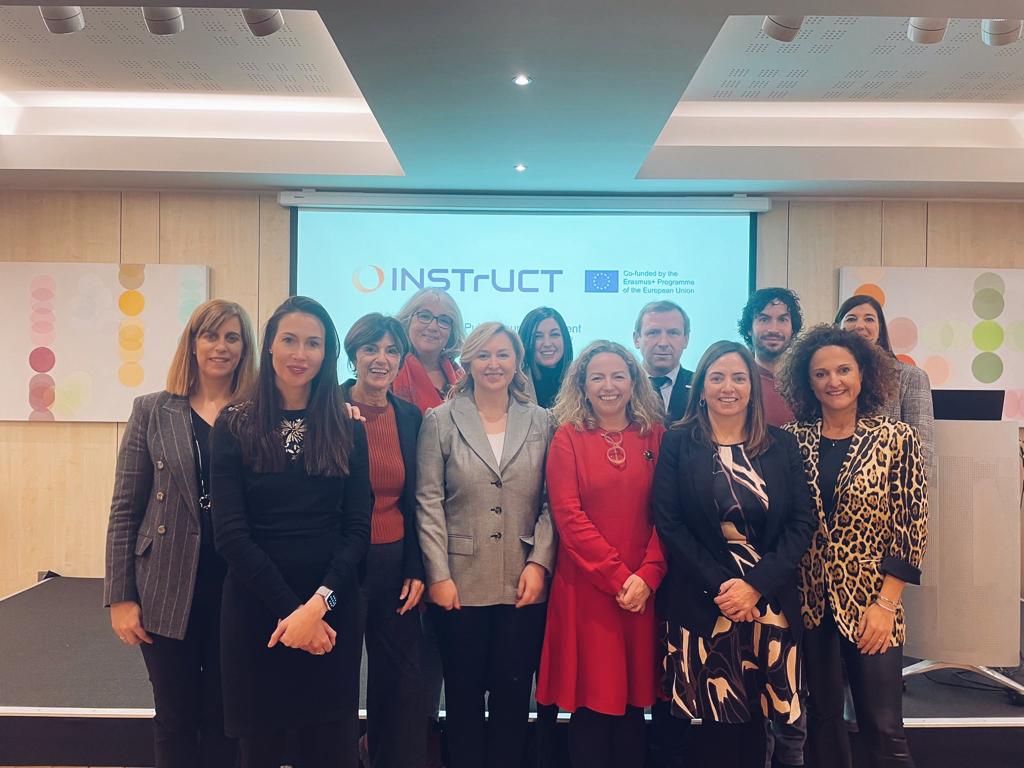 On the 14th of December, the INSTrUCT Programme was presented in Brussels with the participation of more than 50 attendees and the support from Dr. Oxana Domenti (WHO Representative in Brussels) and Dr. Florin Mihaltan (ENSP President) among other relevant panelists from the European Union (EU) context.
INSTrUCT is an Open Educational Resource (OER) in "Brief Intervention on Smoking Cessation" addressed to health students which has been funded by the ERASMUS+ program of the European Comission. INSTrUCT has developed educational evidence-based materials to teach university students how to treat tobacco dependence adequately. Our OER includes five theoretical modules, five educational videos, and three virtual simulations. In addition, INSTrUCT has designed an implementation guideline for teachers and a policy brief document addressed to decision-makers in academia to support them in the introduction of such content in the curricula of different degrees (medicine, pharmacy, or nursing, among others). The INSTrUCT program is available in four languages (English, French, Spanish and Portuguese) and it is free of cost. All the materials are available on the project's website: https://instruct-elearning.eu/
During the event, the materials used by INSTrUCT during the academic year 2020-2021 and the experience of its applicability in 7 European Universities were presented. More than 1000 students have used this OER and about 86% of them acquired the competence of how to provide smoking cessation. Students significantly improved their knowledge (with an increase of 3.54 out 10 in their scores before vs after the training), and they acquired the attitudes and skills required (mean in simulation 7.4 out of 10 points). Moreover, both students and teachers have expressed high levels of satisfaction and recommend INSTrUCT to their fellows.
During the Public Launching, a panel of experts discussed the importance of tobacco cessation in the curricula of health students. Prof. Enkeleint Aggelos Mechilli, from the University of Albania, pointed out that these materials could promote the introduction of tobacco cessation in Higher Education since many academics neglect to lecture this content. Also, Lilia Olefir, Director of Smoke-free Partnership, highlighted that the tobacco industry is threatening the health of Europeans by introducing addictive products such as e-cigarettes and non-burn tobacco products in the market. She underlined that INSTrUCT contributes to the endgame strategy against tobacco and helps to create new advocates for the cause. Finally, Dr. Silvia Gómez, from YERUN praised the quality of the OER created and underlined its potential impact to promote health in the EU context.
In Europe, still 23% of adults are smokers with the consequent risk of maintaining and even increasing the burden of tobacco-related diseases across the continent. Health students are expected to acquire the knowledge and skills required to contribute to treating tobacco dependence to reduce the burden of tobacco-related diseases.
The INSTrUCT project is intended to become a solution to teach students from all healthcare Higher Education and or Universities how to support smokers to quit before graduation, and consequently help them to contribute to tackling the tobacco epidemic. INSTrUCT is aligned with the EU Tobacco Product Directive and Europe's Beating Cancer Plan, key pillar for creating a more secure, better prepared, and more resilient EU.