ICO's smoking cessation clinic has more than 15 years of experience in diagnosis, treatment and support for people who smoke.​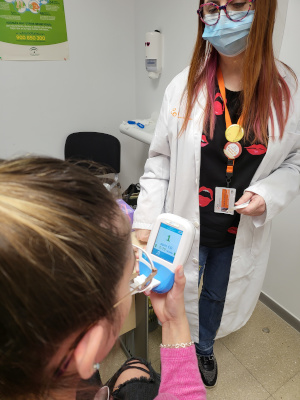 The smoking cessation clinic offers personalized, continuous intensive support for 12 months. The therapeutic support is based on cognitive-behavioural therapy and pharmacological treatment (if needed). The clinic is aimed at all ICO patients and their families as well as all the professionals working at ICO Hospitalet and other nearby institutions. ​
The clinic has two nurses who specialize in smoking cessation and the management of cancer patients, Mrs. Anna Riccobene and Mrs. Marta Enríquez. Technical and administrative tasks are managed by Mrs. Maite Narváez. ​
The practice's activity has continuously grown in recent years, with an average of 370 first appointments and almost 1420 follow-up appointments per year, in addition to the ongoing telephone and WhatsApp support. Around half of the people we support report to be smoke-free a year after starting treatment with us! All those who reach this milestone get a certificate stating they are an "ex-smoker" [Link: standard certificate]. Do you want to get yours?​
If you want to quit smoking, get in touch with us!
Call us on 932607357 (ext. 3052) or send a WhatsApp message to 675 788 901 (8:00-15:00h).
You can also send us an e-mail to: sensefum@iconcologia.net​
Take a look at this interview to Anna Riccobene that was published at IDIBELL's website.