Abordaje del humo de tabaco de segunda mano y las emisiones de e-cigarrillos: evaluación de la exposición, nuevas intervenciones, los efectos sobre las enfermedades pulmonares y la carga económica en varias poblaciones europeas – El Proyecto TackSHS
Página web del Proyecto TackSHS: www.tackshs.eu
Antecedentes
La exposición al Humo Ambiental del Tabaco (HAT) ha sido clasificada como un "Carcinógeno de grupo 1" (un carcinógeno humano conocido) por la Agencia Internacional de Investigación sobre el Cáncer (IARC) y se ha demostrado que tiene efectos adversos para la salud en adultos y niños, incluyendo enfermedades del corazón y trastornos respiratorios. Los cigarrillos electrónicos (e-cigarettes), el sistema más común de liberación de "nicotina electrónica", han irrumpido en el mercado con un aumento considerable del volumen de ventas en toda la UE en los últimos 5 años.
Objetivos
El proyecto TackSHS intentará elucidar el impacto integral que tienen el HAT y las emisiones de los cigarrillos electrónicos sobre la salud respiratoria de la población europea y cómo los impactos sobre la salud varían según parámetros socio-económicos, con especial énfasis en grupos vulnerables específicos (pacientes que sufren de preexistentes enfermedades pulmonares crónicas, fumadores y otros grupos desfavorecidos).
Metodología
Por medio de una serie integrada de paquetes de trabajo, investigaremos los determinantes de la exposición al HAT, a nivel individual y en el ambiente (encuesta paneuropea y evaluación del HAT en 12 países), la carga total de enfermedad causada (enfermedades pulmonares y cardivasculares), incluyendo cambios de la salud respiratoria en pacientes y personas sanas, el impacto económico de la mortalidad y morbilidad causadas por estas exposiciones, los métodos para caracterizar estas exposiciones y nuevas intervenciones para reducirlas. Este enfoque integral e integrado permitirá un cambio significativo más allá del estado del conocimiento actual en la comprensión de la exposición al HAT y de las emisiones del cigarrillo electrónico. Los socios participantes han estado en la vanguardia de la investigación de vanguardia en esta disciplina, con cierta colaboración entre ellos en proyectos específicos. El proyecto TackSHS reúne por primera vez todos estos equipos de investigación de primera línea, y la conjunción de los paquestes de trabajo se traducirá en un paso adelante para hacer frente a la exposición al HAT y las emisiones de los cigarrillos electrónicos.
Paquetes de Trabajo (WP)
WP1. Coordinación y gestión (Coordinador: UCT-ICO)
WP2. Evaluación ambiental de la exposición al humo ambiental del tabaco en zonas privadas y al aire libre según las políticas de zonas libres de humo y las características socioeconómicas de cada país. (Coordinador: ASPB)
WP3. Encuestas sobre el humo ambiental del tabaco y cigarrillos electrónicos  (Coordinador: IRFMN)
WP4. Mediciones para el cambio: información de la calidad del aire para reducir la exposición al humo ambiental del tabaco en hogares y coches (Coordinador: UNIABERD)
WP5. Exposición al humo ambiental del tabaco y efectos de salud agudos en pacientes con enfermedad pulmonar crónica (Coordinador: TFRI)
WP6. Impacto clínico de la exposición pasiva a las emisiones de cigarrillos electrónicos en el sistema respiratorio (Coordinador: HCS)
WP7. Humo ambiental del tabaco en condiciones experimentales y reales: comparación de métodos de medición (Coordinador: INT)
WP8. Exposición a las emisiones de cigarrillos electrónicos: evaluación personal y ambiental en los espacios confinados (Coordinador: UCT-ICO)
WP 9. Morbimortalidad atribuible al humo ambiental del tabaco en Europa  (Coordinador: ISPO)
WP10. Impacto económico del humo de tabaco sobre la morbilidad y mortalidad y el retorno sobre el montante invertido en las intervenciones (UPCT)
WP11.  Diseminación de los hallazgos del proyecto (ENSP)
Duración
48 meses: del 11/2015 al 11/2019
Financiación
Grant No. 681040. European Union's Horizon 2020 research and innovation programme (2.987.793,00 €)
Investigador principal y centro de coordinación
Dr. Esteve Fernández, Unidad de Control del Tabaco-Instituto Catalán de Oncología/IDIBELL
Colaboradores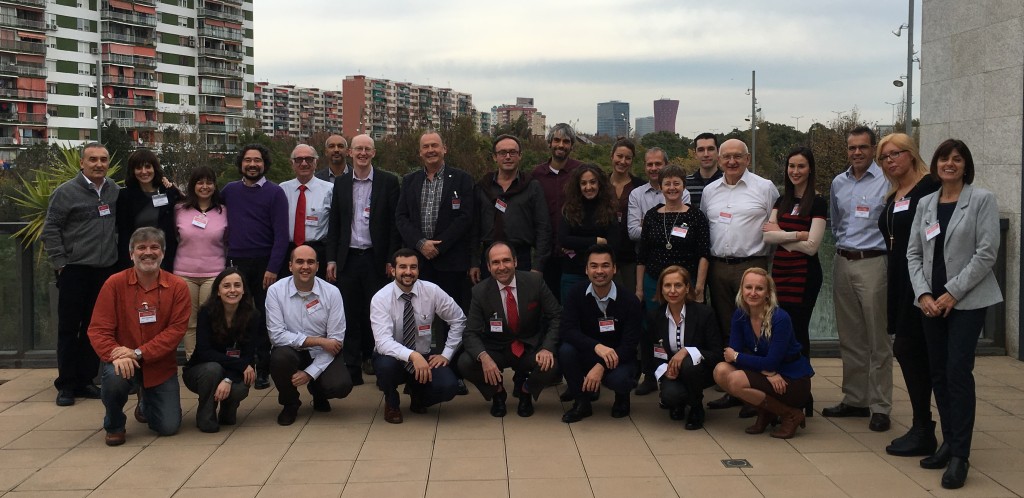 ---
Resultados
Mensajes clave y recomendaciones
Vídeos
La exposición al humo ambiental del tabaco en espacios al aire libre
La exposición al humo ambiental del tabaco en interiores
Resumen de la conferencia final
Infografía
¿Cómo es la exposición al humo ambiental de tabaco en espacios al aire libre y privados de Europa?
Publicacions
Tesis doctorales (finalizadas)
Ruaraidh Dobson. Can air quality feedback be an effective tool to encourage parents and caregivers to "take smoking right outside"? (2019).
Beladenta Amalia. Environmental and bystanders' exposure to secondhand aerosols of electronic cigarettes in the European population (2021).
Sarah O. Nogueira. Beyond the current tobacco control legislation. Do Europeans support further policies? Attitudes and associated factors (2021).
Elisabet Henderson. Secondhand smoke exposure in outdoor settings in Europe (2021).
Silvano Gallus. The role of electronic cigarettes and heated tobacco products in tobacco control in Italy and Europe (2022).
Tesis doctorales (en proceso)
Chiara Stival. Obesity prevalence trends in Europe.
Olena Tigova. Burden and Prevention of Smoking and Second-hand Smoke Exposure in Private Settings