Abordatge del fum de tabac de segona mà i les emissions d'e-cigarretes: avaluació de l'exposició, noves intervencions, els efectes sobre les malalties pulmonars i la càrrega econòmica en diverses poblacions europees – El Projecte TackSHS
Antecedents
L'exposició al Fum Ambiental del Tabac (FAT) ha estat classificat com un "Carcinogen de grup 1" (un carcinogen humà conegut) per l'Agència Internacional de Recerca sobre el Càncer (IARC) i s'ha demostrat que té efectes adversos per a la salut en adults i en nens, incloent malalties del cor i trastorns respiratoris. Les cigarretes electròniques (e-cigarettes), el sistema més comú d'alliberament de "nicotina electrònica", han irromput en el mercat amb un augment considerable del volum de ventes a tota la UE en els darrers cinc anys.
Objectius
El projecte TackSHS intentarà elucidar l'impacte integral que tenen el FAT i les emissions de les cigarretes electròniques sobre la salut respiratòria de la població europea i com varia l'impacte sobre la salut en funció de paràmetres socioeconòmics, amb especial èmfasi en grups vulnerables específics (pacients que pateixen de preexistents malalties pulmonars cróniques, fumadors i altres grups desfavorits).
Metodologia
Per mitjà d'una sèrie integrada de paquets de treball (workpackages), s'investigarà els determinants de l'exposició al FAT, a nivell individual i a l'ambient (enquesta paneuropea i avaluació del FAT en 12 països, la càrrega total de malaltia causada per malalties pulmonars i cardiovasculars), incloent canvis de la salut respiratòria en pacients i persones sanes, l'impacte econòmic de la mortalitat i morbiditat causades per aquestes exposicions, els mètodes per caracteritzar aquestes exposicions i noves intervencions per reduir-les. Aquest enfocament integral i integrat permetrà un canvi significatiu més enllà de l'estat del coneixement actual en la comprensió de l'exposició al FAT i de les emissions de les cigarretes electròniques. Els socis participants han estat a la avantguarda de la investigació en aquesta disciplina, amb certa col·laboració entre ells en projectes específics. El projecte TackSHS reuneix per primera vegada tots aquests equips d'investigació de primera línia, i la conjunció dels paquets de treball es traduirà en un pas endavant per fer front a la exposició al FAT i les emissions de les cigarretes electròniques.
Paquests de Treballs
WP1. Coordinació y gestió (Coordinador: ICO).
WP2. Avaluació ambiental de l'exposició al fum ambiental del tabac en zones privades i a l'aire lliure segons les polítiques de zones lliures de fum i les característiques socioeconòmiques de cada país. (Coordinador: ASPB).
WP3. Enquesta sobre el fum ambiental del tabac i les cigarretes electròniques  (Coordinador: IRFMN).
WP4. Mesures pel canvi: informació de la qualitat de l'aire per reduir l'exposició al fum ambiental del tabac en llars i cotxes (Coordinador: UNIABERD).
WP5. Exposició al fum ambiental del tabac i efectes de salut aguts en pacients amb malaltia pulmonar crònica (Coordinador: TFRI).
WP6. Impacte clínic de l'exposició passiva a les emissions de cigarretes electròniques en el sistema respiratori (Coordinador: HCS).
WP7. Fum ambiental del tabac en condicions experimentals i reals: comparació de mètodes de mesura (Coordinador: INT).
WP8. Exposició a les emissions de cigarretes electròniques: avaluació personal i ambiental en els espais confinats (Coordinador: ICO).
WP 9. Morbimortalitat atribuïble al fum ambiental del tabac a Europa  (Coordinador: ISPO).
WP10. Impacte econòmic del fum del tabac sobre la morbiditat i mortalitat i el retorn sobre la quantitat invertida en les intervencions (UPCT).
WP11.  Disseminació de les troballes del projecte (ENSP).
Durada
48 mesos: del 11/2015 al 11/2019.
Finançament
Grant Nº 681040. European Union's Horizon 2020 research and innovation programme (2.987.793,00 €).
Investigador Principal i Centre de Coordinació
Dr. Esteve Fernández, Institut Català d'Oncologia/IDIBELL.
Col·laboradors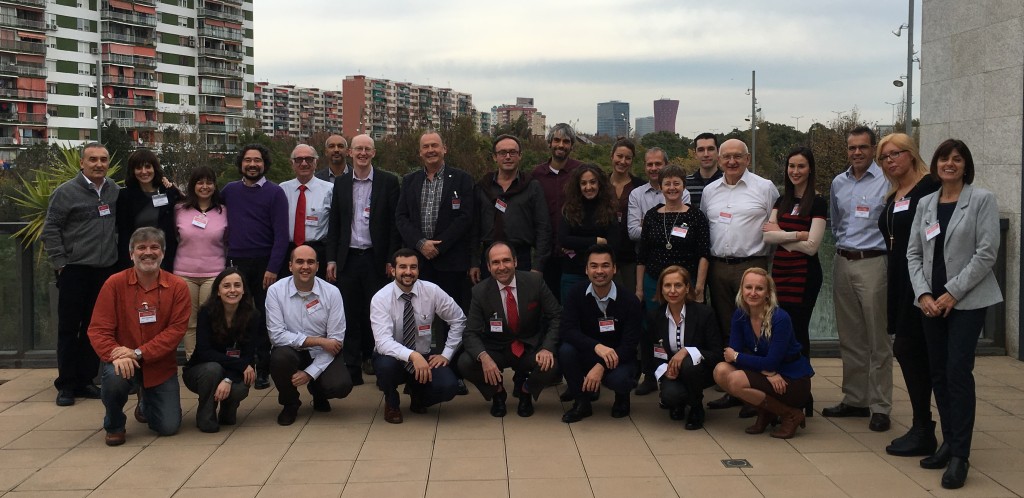 ---
Web: www.tackshs.eu
Twitter: @TackSHSProject
---
Resultats
Missatges clau i recomanacions
Vídeos
L'exposició al fum ambiental del tabac en espais a l'aire lliure
L'exposició al fum ambiental del tabac en espais interiors
Infografia
Com és l'exposició al fum ambiental de tabac en entorns a l'aire lliure i privats d'Europa?
Publicacions
Tesis doctorals (finalitzades)
Ruaraidh Dobson. Can air quality feedback be an effective tool to encourage parents and caregivers to "take smoking right outside"? (2019).
Beladenta Amalia. Environmental and bystanders' exposure to secondhand aerosols of electronic cigarettes in the European population (2021).
Sarah O. Nogueira. Beyond the current tobacco control legislation. Do Europeans support further policies? Attitudes and associated factors (2021).
Elisabet Henderson. Secondhand smoke exposure in outdoor settings in Europe (2021).
Silvano Gallus. The role of electronic cigarettes and heated tobacco products in tobacco control in Italy and Europe (2022).
Tesis doctorals (en procés)
Chiara Stival. Obesity prevalence trends in Europe.
Olena Tigova. Burden and Prevention of Smoking and Second-hand Smoke Exposure in Private Settings